SCHEME FOR NATURALIZATION OF INVESTORS IN CYPRUS BY EXCEPTION
Obtaining Cypriot Citizenship by Investment per the updated Government policy dated:
Updated law: 13th September 2016
Visa free travel in 157 countries
Live, work, travel anywhere in the European Union
Own a Business within the EU
Applicants spouse and children up to the age of 28 are also granted citizenship.
Applicants parents are entitled for citizenship provided they own permanent residence in Cyprus of at least €500.000
Benefit from no inheritance tax in Cyprus.
Cyprus has one of the lowest corporate tax rates in the EU 12.5%
Dual Citizenship is allowed
Residential and Commercial properties and infrastructure projects
Cyprus businesses and companies
Financial Assets of Cypriot Enterprises and/or organisations
Alternative Investment Funds (AIFs)
Government bonds (maximum investment of €500.000)
Combination of options
Minimum investment of €2,000,000 (ex. VAT)
Requirement to invest in residential property in the republic for at least €500.000 (ex. VAT).
Holding investments for a minimum of 3 years
If applicant wishes to sell investments after 3 years, then a residential property of a minimum value of €500.000 (ex. VAT) needs to be kept.
Clear criminal records for all receivers of Cyprus citizenship
Must be holder of Cyprus residence permit (to be filled with citizenship application)
NO requirement to reside in Cyprus
NO requirement for language proficiency tests
Application Submission Documents:
Brief explanation of Investment for the application
M127 Application Form
Birth Certificate
Copy of Passport
Clean criminal record certificate from country of origin and country of residence
Marriage certificate
Copies of two consecutive advertisements in daily newspapers
Two Passport Size photographs
Curriculum Vitae (CV)
Details about permanent privately-owned residence of the applicant in Cyprus
Supporting evidence in case applicant is a high ranking senior manager
Supporting evidence of investment by the applicant in Cyprus
Fast-track procedure of 3 months to be granted a citizenship.
Processing fees (paid to the Government)

* Application Submission
Original documents
Copies of original documents
Application fees
** Certificate of Naturalization
After positive evaluation of the application, a Certificate of Naturalization is granted following payment of € 5000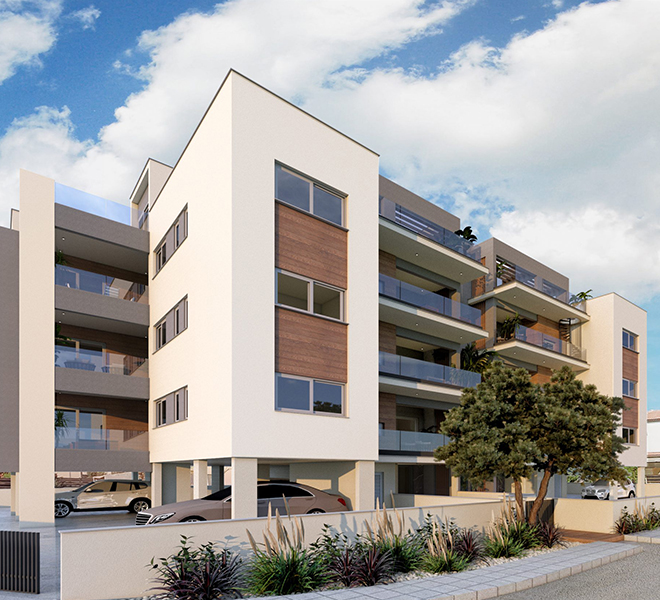 Apartments for Sale in
Polemidia Area
It comprises of one and two bedroom apartments. It's an ideal investment for a family seeking a permanent residence on the outskirts of town, with easy and quick access to the motorway.
Price on Call